It's a good time to start up.
From accelerator programs, to legal advice, to coworking space, we're here to help.
If you are a Lehigh Valley entrepreneur with a great idea,  find out how you can compete for a Penn State Lehigh Valley LaunchBox grant at the virtual StartUp Lehigh Valley Event on November 18th!
For entrepreneurs
Located at the Penn State Lehigh Valley campus in Center Valley, we are the hub connecting Lehigh Valley entrepreneurs to the support, resources, and facilities they need to build a sustainable and scalable business with a viable plan for growth. By centralizing our no-cost services, we help entrepreneurs avoid the common mistakes startups often face and enable them to focus their time on growing their business.
Business accelerator program
Microgrants
Coworking space
Legal and intellectual property services
Business advice and mentorship
Mastermind Program
Accelerator & Microgrant Program
Lehigh Valley Launchbox (LVLB) is an early-stage business accelerator program for entrepreneurs. It propels business concepts into startup companies with:
Microgrants awarded annually
Free coworking space in downtown Allentown
Access to free PSU Legal and Intellectual Property Services
Ongoing education and programming
Business development resources
A safety net of advisors
Spring 2021 Virtual StartUp Bootcamp
Have a great idea that you want to turn into a scalable business but aren't sure how to proceed? Join us for our next Lehigh Valley LaunchBox (LVLB) Virtual StartUp Bootcamp and our team of experts will help you build an actionable plan for today's evolving business climate – for FREE! This exciting 6-week virtual program is hosted via Zoom and includes interactive workshops/breakout sessions and an optional seventh week for individual practice pitch coaching sessions. Send us your email address to receive an announcement for our Spring 2021 bootcamp.
Coworking Space
Lehigh Valley LaunchBox microgrant recipients have access to coworking space at Velocity in downtown Allentown.
Find an inviting space to work or book a conference room or training room. You will also find 24-7 access to the building, wi-fi, a kitchenette, and a lounge.
Penn State Law Entrepreneur Assistance Clinic
Provides a variety of free legal services related to startups.
Penn State Law Intellectual Property Clinic
Provides entrepreneurs free assistance to determine if they have intellectual property and how to protect it.
LaunchBox Ladies Ongoing Programming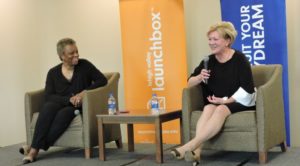 A conversational speaker series focusing on the unique challenges and victories of female entrepreneurs. Using interviews, video, and interactive presentations, invited speakers will share with students and the community their personal experiences running a successful business.
Teen Entrepreneur Challenge
COVID-19 UPDATE: DUE TO THE PANDEMIC, THE SUMMER 2020 PROGRAM: ENGINEERING PUBLIC HEALTH SOLUTIONS WAS OFFERED AS A VIRTUAL EXPERIENCE. STAY TUNED FOR SUMMER 2021 DATES.

Our Teen Entrepreneur Challenge (TEC) empowers rising high school sophomores, juniors, and seniors to be successful business owners.
Learn key strategies for starting a business and developing an entrepreneurial spirit
Programming at Penn State Lehigh Valley and the Perkiomen School, with field trips to area businesses for real-world experiences
Housing at the Perkiomen School in air-conditioned dorms and use of the Innovation Center for 3D virtual reality, additive manufacturing, computer design, and rapid prototyping
Camp culminates in a "Shark Tank" style team pitch competition to a panel of judges
Receive a 50 percent discount on transferable college credits for camp participation through the optional dual-enrollment program (not offered for 2020 virtual program)
750+
LaunchBox Ladies Participants
1.6
Million+ PA Jobs Supported by Retail
Catching up with Lehigh Valley Launchbox Entrepreneur Udit Garg
CENTER VALLEY, Pa. — Lehigh Valley LaunchBox (LVLB) periodically checks in with grant recipients to ask how their business or product development is coming along, hear the advice they have for other entrepreneurs, and see how they have benefited from...
Lehigh Valley LaunchBox Grant Recipient, CeCe J's Snacks opens in Allentown
After more than 20 years of working for large companies, Ceceilia Jackson had the confidence to leave the corporate world and follow her love of chips! Jackson recently opened her own business, Cece J's Snacks, with the help of Lehigh...
PSU-LV completes first virtual Teen Entrepreneur Challenge
CENTER VALLEY, Pa. — Penn State Lehigh Valley hosted its fifth annual Teen Entrepreneur Challenge (TEC) summer program, which is an initiative of Lehigh Valley LaunchBox. TEC ran from July 6 to 16, exposing 25 rising sophomore, junior and senior...
Tools for Entrepreneurs, Innovators, and Industry
Our Navigators are built with you in mind. See what Penn State has to offer.
Resource Navigator
The Resource Navigator showcases entrepreneurship and innovation resources in Penn State University communities across Pennsylvania.
IP Navigator
The Intellectual Property Navigator is a showcase of Penn State University's intellectual property available for licensing.
Startup Navigator
The Startup Navigator is a showcase of startups with Penn State DNA.